provided by Alpha Lion
Becoming an Alpha Lion does not happen overnight…and neither does building a brand as epic as Alpha Lion!
Watch co-founders Troy Adashun and Jordan Fares share the INSANE true story of how Alpha Lion started and the challenges they endured while transforming Alpha Lion into one of the fastest growing fitness companies in the world!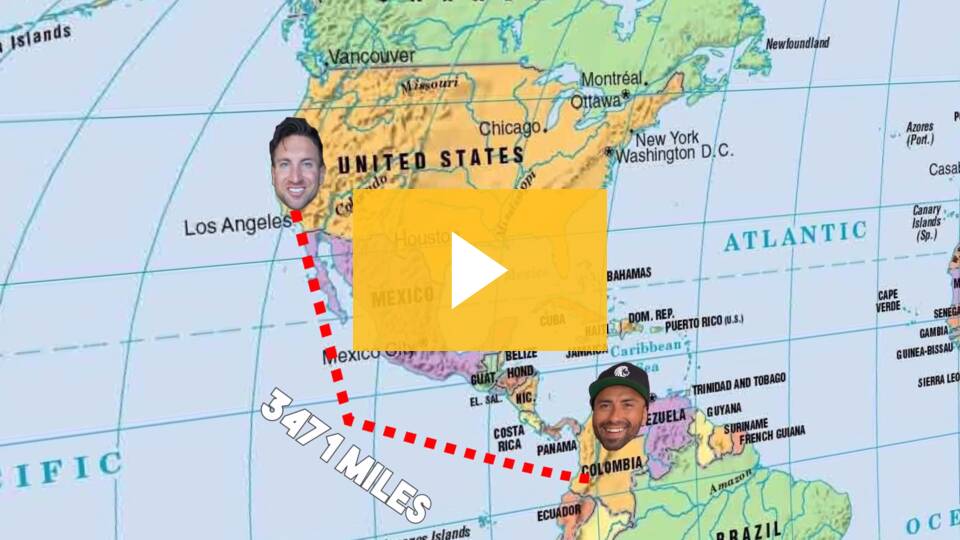 TROY: If you would have told me 2 years ago that I'd be running a successful business 3,471 miles apart with an Australian guy that I'd only met 3 times in real life…
I would've told you that you were absolutely insane.

First we have to back-track to Medellin, Colombia and Los Angeles, California just over 2 years ago…
Jordan had just moved to Medellin, Colombia from the Gold Coast of Australia and I had just moved to Los Angeles, California from West Palm Beach, Florida.
"WE WERE BOTH STARTING COMPLETELY NEW LIVES. NEW CHAPTERS. CHANCES TO START OVER."
JORDAN: Before Alpha Lion, my life was basically chasing quick buck after quick buck with no real meaning. I sold everything from cremation urns to strawberries…
And after losing close to a million dollars on failed businesses, and owing my own mom close to $300,000, you quickly question what life's worth living for.
I learned that there's two things that get you back on your feet quickly—and that's passion and purpose.
With Alpha Lion, I found my purpose. And our goal is to help you find yours.
"BEFORE ALPHA LION, MY LIFE WAS BASICALLY CHASING QUICK BUCK AFTER QUICK BUCK WITH NO REAL MEANING."
TROY: I've seen so many people give up on their dreams by the time they even turn 25. Accepting mediocrity. Living without passion. Simply going through the motions. And my biggest fear was that I would end up just like them.
By the time I was almost 30, my dreams of being a professional athlete were completely dead… My dreams of being a successful actor were in a dead-end rut… And I had failed business opportunity after failed business opportunity in the fitness industry. But despite being almost 30 years old at the time, something inside me said that no matter how hard it was…
No matter how badly I wanted to give up… I had to keep going and think EVEN BIGGER with my goals.
I believed that if I were able to succeed after basically failing throughout my entire 20's, maybe someone else in my position would find the motivation to keep going…keep pushing…to strive for greatness. And that's really what Alpha Lion is all about.
"KEEP GOING. KEEP PUSHING. TO STRIVE FOR GREATNESS. AND THAT'S REALLY WHAT ALPHA LION IS ALL ABOUT."
TROY: Jordan and I had both been working in the fitness industry for over a decade and we connected online after he was trolling one of my YouTube videos because I'm pretty sure he was jealous of my bigger calves. But we both connected right away because of our frustrations within the fitness industry as well as our frustrations working for other people… waking up every single day with absolutely no passion, unable to control our own destinies.
JORDAN: We sat back and watched the majority of brands release underdosed, shitty supplements marketed to the masses by bodybuilders on steroids that probably never took the product. Besides that, they stood for NOTHING.
So after 30 years of living without purpose, backed by all these failures, frustrations, and restrictions…we said fuck it. We wanted to take our lives back.
We had found our purpose. We wanted to be the walking middle fingers to everyone who said we can't do it. And this is when Alpha Lion was born.
"WE WANTED TO BE THE WALKING MIDDLE FINGERS TO EVERYONE WHO SAID WE CAN'T DO IT."
TROY: Even with our core beliefs and long term vision aligning, that first year was no doubt the hardest thing we both have ever done… Working long hours from thousands of miles apart… Spotty video chats that ALWAYS ended in frustration…
There were times that I thought to myself: we both have to be absolutely insane. But we both knew from experience that no success in life worth achieving is easy.
We've sacrificed damn near everything to make this work. We've sacrificed our own stability. We've sacrificed sleep. Relationships. Money. Pretty much our own sanity.
I mean I've talked to Jordan more times over the last two years than my own girlfriend, and let me tell you… He is NOT the funnest guy to talk to.
"WE BOTH KNEW FROM EXPERIENCE THAT NO SUCCESS IN LIFE WORTH ACHIEVING IS EASY."
JORDAN: But after grinding 7 days a week for an entire year, it became crystal clear that Alpha Lion was becoming much more than just a fitness company.
We were building a strong community of motivated people trying to become SuperHuman in and out of the gym.
We were building a legion of thousands of people all around the world, who—just like Troy and myself at the time of Alpha Lion's inception—had never met.
"IT BECAME CRYSTAL CLEAR WE WERE BUILDING SOMETHING WAY MORE THAN JUST A FITNESS COMPANY."
TROY: This past year, things really started to click and we let our unique brand personality shine through with limited edition drops and innovative product drops almost every single month for the entire year. But you can only imagine the daily setbacks we encounter being over 3,000 miles apart.
The difference being…now we have the power ourselves to write the next chapter in our story. And when you start to see the fruits of your labor and the positive changes that happen after you bust your ass for months, even years… You realize that achieving greatness does not happen overnight.
The path to becoming an Alpha Lion is long. I'm talking 3,471 miles long.
"THE PATH TO BECOMING AN ALPHA LION IS LONG. I'M TALKING 3,471 MILES LONG."
And even though these first two years have been focused on producing the purest, most powerful supplements on the market…
We don't want to be remembered as the guys who simply made the best supplements.
We want to blaze the trail that transforms people into fearless leaders…
We want to raise the bar for those determined to make positive changes within themselves and within the world at large by helping all those who need it most…Because at the end of the day, we want to be more than some abs, pecs, or biceps…
We want Alpha Lion's legacy to be more than muscle.